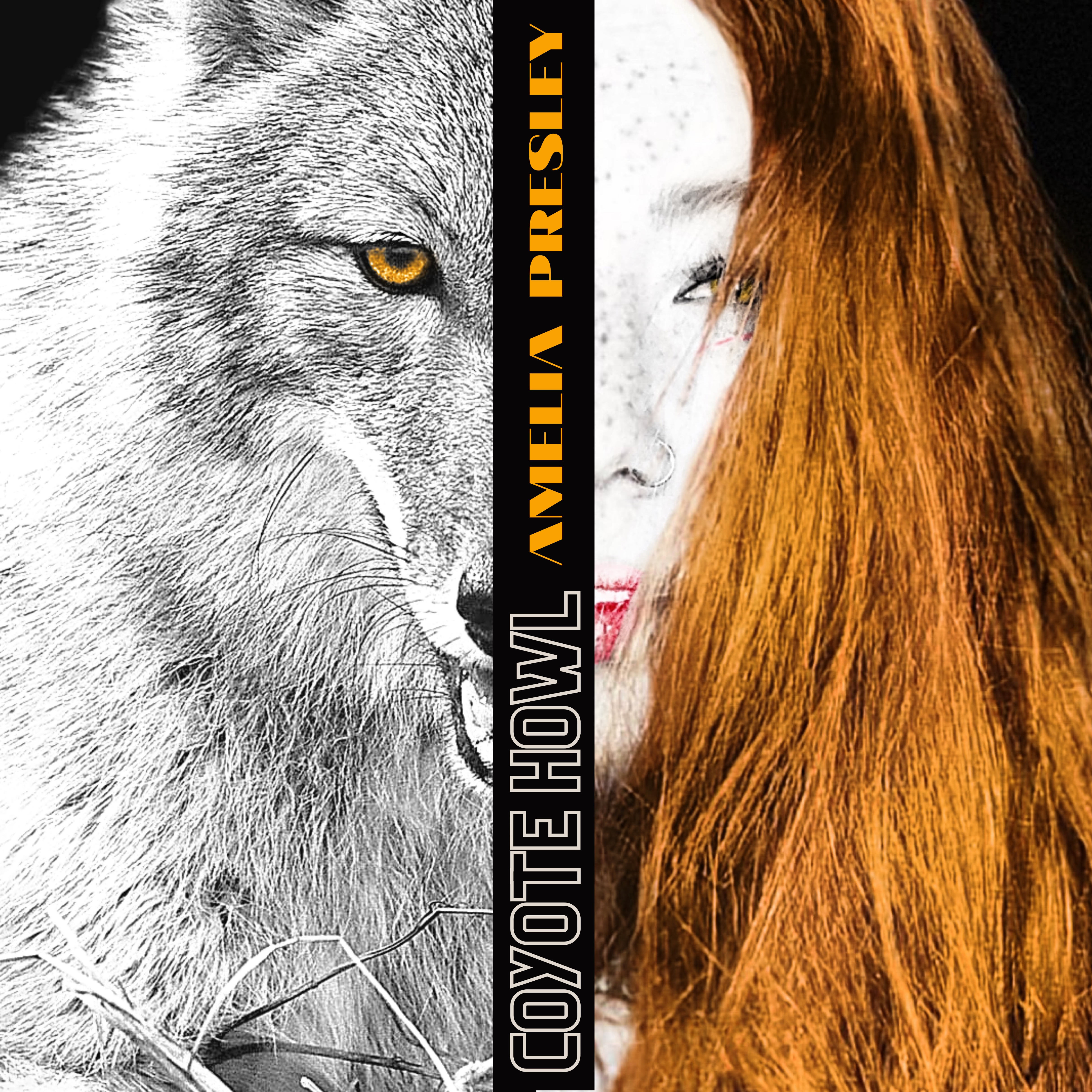 Amelia Presley released her single, "Harm Nobody Else," in 2020 as a way to begin to heal from the abuse she suffered as a child starting at the age of 3 by telling her story through t​​he emotional song. The song, along with her self-filmed music video featuring her three year old daughter, also served as a platform to give hope for healing to other abuse survivors. Now, Presley looks forward to the release of her new EP, "Coyote Howl''.
"Coyote Howl" is a 4-song EP featuring the songs, "Sinner's Den", "Yote", "Drop the Hammer" and "Pinecone". It will be Amelia Presley's second studio album, and will serve as a form of rebranding. "Coyote Howl" contrasts Presley's first album, "No Pony Ride", in that it portrays her current blues-rock musical style as opposed to the album that started her career in 2013.
The focus track from "Coyote Howl", "Yote", features lyrics that people from Presley's hometown (Franklin Creek, MS) would recognize because it was written about being homesick for places such as the Escatawpa River. It's about feeling like a lost coyote ("yote") that searches but never finds belonging.
The radio single from the EP, "Sinner's Den", was written about the relationship between an artist and the music industry. Presley paints the picture of that relationship as a torrid love affair in which the artist continually falls for the toxic relationship. Amelia Presley, like many artists, is no stranger to the tumultuous rollercoaster ride that is the music industry. She continues because "[She has] to".
Presley served 5 years in the US Coast Guard. She sold her horse and horse trailer to record her first studio album in Nashville. Following the release of that album ("No Pony Ride"), she recorded and released singles including "Get Lucky" which was featured on iTunes New Artist Spotlight and iTunes Hot Tracks under the country music genre, "Hard Headed Mama", "Empty Case", and a couple of live albums in addition to her most personal release, "Harm Nobody Else". She also tours and releases music as part of the country music duo, Highway Sisters.
"Coyote Howl" will be released July 6, 2023 through Edgewater Music Group/Sony The Orchard. The radio single from the EP, "Sinner's Den", will be released to radio on May 25th, 2023. The music video for "Sinner's Den" will be released later in June. It will feature Taylor Long, who played lead guitar on her studio recording of "Harm Nobody Else", along with his wife, Daryin Long.
Amelia Presley hopes to use "Coyote Howl" to inspire hope to others to keep pushing forward for what they feel they were born to do despite adversity while being unapologetically true to themselves.
Credits:
Co-Produced by Eric McKinney & Amelia Presley. 

Engineered, Mixed & Mastered by Eric McKinney

Recorded at Wonderland Studios ATX

Acoustic Guitars & Vocals performed by Amelia Presley.

All other instruments performed by Eric McKinney, with the exception of percussion by Miriam McKinney and Eric McKinney.
Special Thanks to:
Torrie Atchison

Teresa McDaniel

Martin Laulunen

Paula Patterson

Terrie Parum

Sharon Groh

Kristen Vaca

Stephanie Baker

Joseph McGowan

Ron Campbell

Gaye Clark

Craig Richcreek

Ginger and Matt Feeney

Alex Cantrell

Michael Casillas

Baylis Laramore

John Reeve

Mirjana Brady

Bradley Rigers

Kevin Brensinger

Matthew Nolen

Darren Walsh

Betty H

Lyndsey Buchanan

Abel Casillas

Greg Moses

Lucas Shumacker

Lisa Eiland

Albert Beltran

Valerie Presley

Cassie Kelly

Katie Fay

Galen Farris

Julio Gonzalez

Janet Beatty

Betty Tillman

Jonathan Swint

Alice Hosdain

Emily Wadkins

Jimmy Compton

Amanda Lemon

Bob Simpson

Danny Rasberry

Courtney Martin

David Biggers

Jason Deckman

Jyri Kuronen

Anna Grace Nation

Les Radner

Jimmy Ninja

Ait Said Kamal

Robert Lilianstrom

Adrian N Schauer

Dietmar Leibecke

Sabrina Chandler

Greater Veterans Spokane

Alex Bishop

Eric Bernholz

Leah Pierce

Kimberly Cleary

Donna Doherty

Mary Caroline Bruscato

Angie Pfeiffer

Abe Partridge