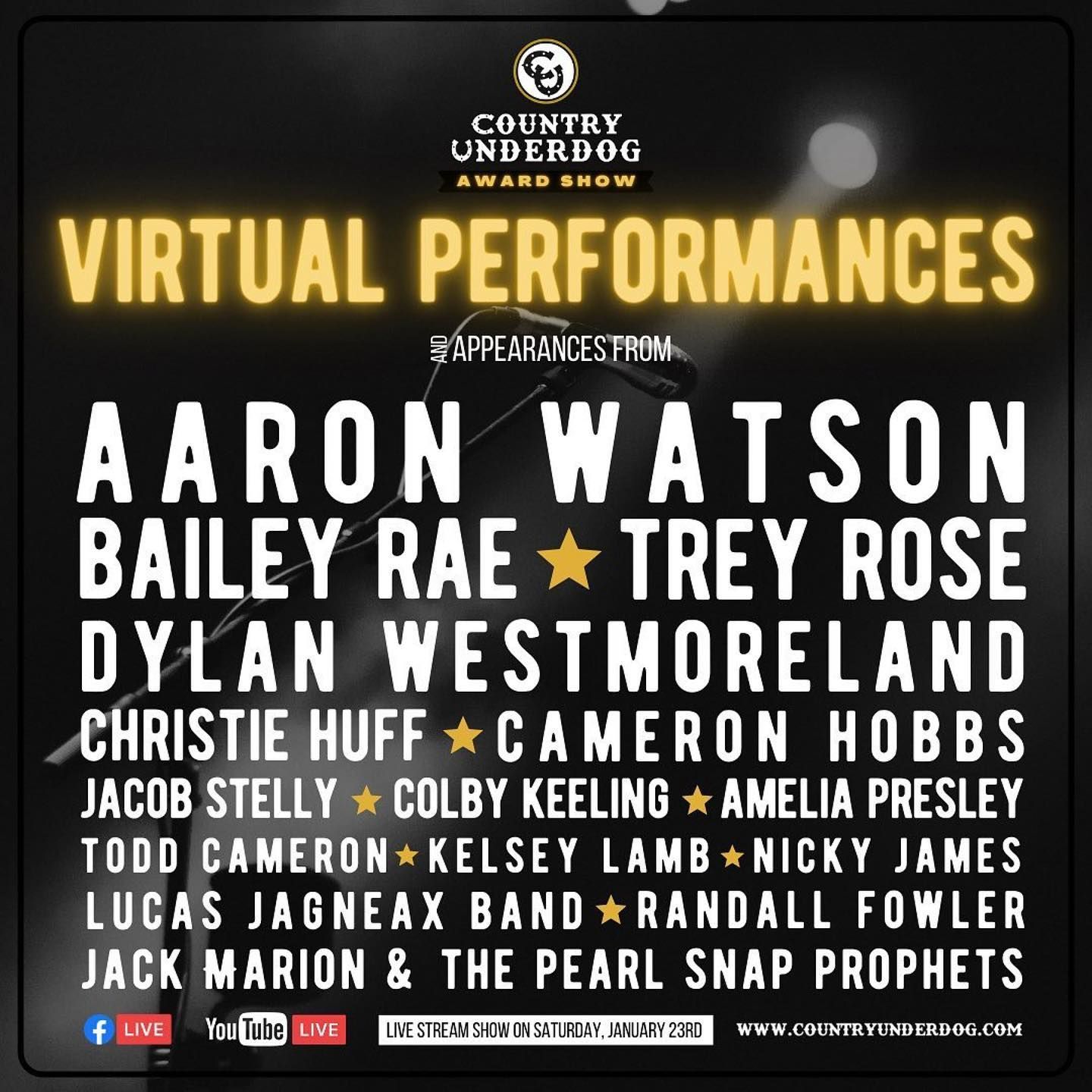 Credit: @countryunderdog
Reed McDonald "founded Country Underdog in 2019 to help make artists' dreams come true by promoting artists and building the brand's that is Country Underdog. All so the underdog artists' can finally be heard. Reed works tirelessly every day on everything from social media to the website so that CU is the best it can be to help make dreams come true." - CountryUnderdog.com/Our-Team
The 2020 Country Underdog Awards were held January 23, 2021 via live broadcast.  The awards were hosted by Country Underdog founder, Reed McDonald, and CCO Preston Rackley.  Categories are listed below with nominees who were nominated and voted on by over 4,000 fans.  The 2020 Country Underdog Awards featured performances by (in order of performance) The Pearl Snap Prophets, Dylan Westmoreland, Todd Cameron, Christie Huff, Randall Fowler, Kolby Keeling, Jacob Stelly, Nicky James, Amelia Presley, Lucas Jagneaux, Trey Rose, Bailey Rae, and Aaron Watson.
Opening Performance: The Pearl Snap Prophets
Emerging Artist of the Year: Tyler Booth, Braxton Keith, Kylie Trout, Seth Jones, Hayley Giovinazzo
Performance: Dylan Westmoreland - "Deep End"
Folk/Americana of The Year: Joshua Ray Walker, The Wilder Blue, Pony Bradshaw, Jonathan Terrell, Arlo McKinley
Performance: Todd Cameron - "Ruin My Truck"
Non-Streaming Artist of the Year: Aaron McBee, Adam Patrick Konieczny
Performance: Christie Huff - "All Together"
Music Video of the Year: Ian Munsick, Mike Donnell, Lary Fleet, Market Junction, Austin Meade
Producer of the Year: Timothy Allen, Mark Neill, Bruce Robison, David Dorn & Alex Torrez, Ethan Whitaker
Performance: Randall Fowler - "Coming Home (One Way Road)"
Music Venue of the Year: Blue Light Live (Lubbock, TX), Brewminatti (Prosser, Washington), Twisted J Bar (Stephenville, TX), Saxon Pub (Austin, TX), Gruene Hall (Gruene, TX)
Performance: Colby Keeling - "When It's Gone"
Alternative Country Artist of the Year: Kody West, Southern Brave, Thieving Birds, Slade Coulter, The Nighthowlers 
Performance: Jacob Stelly - "High Cost of Living"
Best Quarantine Release: Celsey Braddock, Jon Stork, Tanner Usrey, Austin Upchurch, Huser Brother Band
Performance: Nicky James - "Addict's Night"
Young Artist of the Year: Payton Howie, Jade Marie Patek, Braden Jamison, Hannah Hokit, Luke Hupp
Female Artist of the Year: Halle Kearns, Morgan Wade, Graycie York, Holly Beth, Robynn Shayne
Performance: Amelia Presley - "Yote"
Male Artist of the Year: Wynn Williams, Jesse Daniel, Logan Samford, Carson Jeffrey, Joey Greer
Performance: Lucas Jagneaux - "The Worst Thing About Texas"
Band of the Year: Shaker Hymns, Pecos & The Rooftops, Chad Cooke Band, Giovannie and the Hired Guns, The Lowdown Drifters 
Performance: Trey Rose - "Can't Have You"
Song of the Year: Dylan Wheeler - "Hey Baby", Triston Marez - "Forgot About You", Kat Hasty - "Pretty Things", Kylie Frey - "Spur of the Moment", Curtis Grimes - "River Road Dream"
Album of the Year: American Aquarium - "Lamentations", Gabe Lee - "Honky Tonk Hell", Dalton Domino - "Feverdreamer", The Panhandlers - "The Panhandlers", Ward Davis - "Black Cats and Crows"
Performance: Bailey Rae - "Never Been This Lonely"
Country Underdog Artist of the Year: Randall King, Cody Hibbard, Chris Colston, Kolby Cooper, Charley Crockett
Performance: Aaron Watson - "Best Friend"