On August 27, 2021, Amelia Presley met some friends at their ranch around Cross Plains, TX to eat and ride four wheelers.  She sat her glasses down to wipe her eyes after eating a particularly hot ghost pepper.  After that, she couldn't find them and waited to leave the next morning when there was more light.  Amelia has low vision from her military injuries, but did not intend to have such difficulty seeing.  The roads were dark, and there were no cars driving them to shed any light.  She set her truck to cruise control, then realized that the unlit road she was traveling down was coming to a stop.  Unfortunately she did not see the road's end until the yellow and black sign was directly in front of the truck.  Amelia slammed on the brakes and tried to swerve, but still managed to hit the sign.  The truck proceeded to travel about fifty feet up the side of a mountain, hitting trees along the way.  One of the trees broke straight through the windshield, hitting Amelia below the left eye, and knocked her unconscious.  Her Rottweiler-German Shepherd Mix, Li'l Dan, was in the truck with her at the time of the crash. 
When Amelia woke up, the passenger airbag had deployed due to the 100 pound dog's weight, but he had managed to jump to the backseat where he suffered no injuries.  Amelia, on the other hand, was covered in blood.  Concussed and not realizing the gravity of the wreck, she tried to start the truck's engine.  It started, then overheated.  She turned the ignition off, then tried to open the driver's side door.  The door was completely caved in, and Amelia had to kick it to force it open.  She then walked through the woods to the road to flag someone down for help.  A car finally stopped.  It was none other than Country Singer, Ariel Hutchins' father.  Amelia ran back to grab Li'l Dan, and asked Ariel's father to drive her back to her ranch so she could drop her dog off before calling an ambulance.  He did, and when Li'l Dan was safe and sound inside the house, Amelia called an ambulance. 
Shortly after the ambulance arrived, Amelia became unresponsive for half an hour.  At the hospital, Amelia was treated for concussion, and the deep gashes to her face.  She had nearly eleven stitches.  The scar is still visible today, and an "icebreaker" for Amelia.
The truck was totaled, and no insurance money would be recouped.  That's when singer-songwriter, Courtney Patton, reached out to Amelia on behalf of Sequestered Songwriters.  Sequestered Songwriters is a one of a kind relief fund for full-time Americana musicians who are in need of emergency funds.  Due to the kindness of the fund and its generous donators, Amelia was able to put a down payment on a reliable truck so that she could stay on the road touring.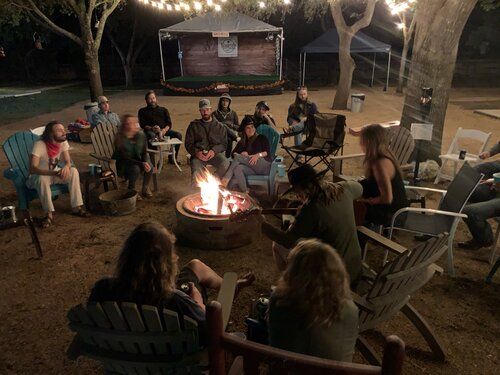 Credit: www.sequesteredsongwriters.com
Please consider donating to Sequestered Songwriters here: https://www.sequesteredsongwriters.com/make-a-donation
If you are an Americana musician in need of emergency assistance, apply here: https://www.sequesteredsongwriters.com/apply
The following images are from Amelia's wreck.  Warning: They are graphic.
|
|
|